Shanghai Haozhuang Instrument Co., Ltd. developed the LNB brand constant temperature and humidity chamber, which is energy-saving and environmentally friendly, leading the country.

Temperature and humidity control system: high accuracy belongs to a high-precision constant temperature and humidity incubator. The temperature controller and humidity controller operate online. Advanced dynamic control technology makes the temperature and humidity reach the best state. 1 Temperature: The temperature controller adopts high-speed, high-performance CPU processing chip, high-sensitivity, high-precision platinum resistance sensor, with fixed programming control function of timing startup, timing shutdown, fixed value work, timing time reaches 99 hours 2 Temperature control instrument Self-contained sensor failure alarm, upper and lower limit temperature deviation alarm, over temperature alarm, parameter memory, temperature display correction, self-diagnostic dynamic control technology 3 It has an independent temperature limit alarm system, which automatically interrupts when the temperature is exceeded to ensure safe operation of the experiment. 4 Humidity: PTD microprocessor control, touch type, direct-reading digital display, imported humidity sensor and advanced humidification technology, accurate humidity control, humidification block, uniform humidity stability.

Refrigeration heating and humidification system 1 Refrigeration: Compressor unit with high and low pressure protection, intelligent refrigeration and frost-free operation technology, self-detecting compressor start-stop control program, low noise, small life, and small temperature fluctuations 2 Heating: omnidirectional three-dimensional heating technology , To ensure the uniformity of the temperature in the studio, the box is equipped with an independently controlled lighting lamp, which can clearly observe the contents of the box. 3 Humidification: The use of imported humidity sensors and advanced humidification technology, accurate humidity control, humidification block, uniform humidity, secondary storage type Automatic water inlet and water shortage alarm function 4 The power output of cooling, heating and humidification is controlled by microcomputer calculation in the intelligent instrument.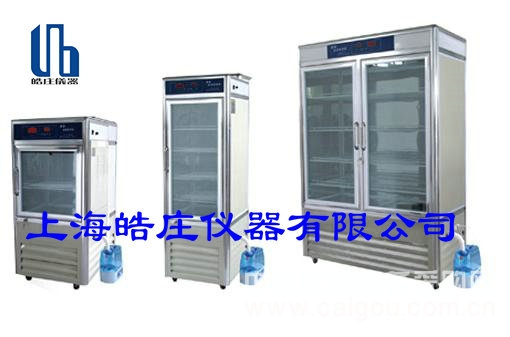 Box structure and materials 1 Mirror stainless steel studio, high-quality steel plate electrostatic spray shell, single door structure, double-layer tempered glass observation window, when the temperature inside the box is quite different from the ambient temperature, you can clearly observe the contents in the box. Stainless steel polished shelf, shelf bracket can be adjusted at will, safe, convenient, novel and beautiful. 2 The omnidirectional three-dimensional heating technology ensures the uniformity of the studio temperature. The box is equipped with an independent lighting lamp, which can clearly observe the contents of the box. 3 Reasonable design of air duct structure and breeze air circulation design to make the temperature in the working room even. 4 Temperature measurement port: located on the inner wall of the box. 5 Terminal: Power cord is located on the lower back of the box. 6 Controller: Located on the box, equipped with temperature control instrument and humidity control instrument, built-in control system, compensation wire connected to the sensor

Shanghai Haozhuang Experimental Instrument Co., Ltd. specializes in the production of constant temperature shaker, low temperature water tank, water bath constant temperature oscillator, gas bath constant temperature oscillator, shaker, incubator and other related instruments. The factory has strong technical force, and its technical indicators are leading in China. Product selection is exquisite, exquisite workmanship, excellent quality and reasonable price. Since its establishment, the company has paid great attention to product development, upgrade and update, and constantly launched intelligent instruments with good operability and stability are the principles that Haozhuang Instruments has always followed . At the same time, in order to better serve users, the company is also equipped with professional application engineers to answer your questions at any time.

Hyaluronic Acid Facial Mask
Key ingredients: Hamamelis extract, betaine, sodium hyaluronate, etc.
Capacity: 25ml * 12
It contains plant essence, tightly fit the whole facial skin, clean, wrap up and moisturize three effects together.
-HERBAL EXTRACT-


Hyaluronic Acid Facial Mask

Hyaluronic Acid Mask,Moisturizing Facial Mask,Hyaluronic Acid Cosmetic Mask,Hyaluronic Acid Moisturizing Mask

Shenzhen Sipimo Technology Co., Ltd , https://www.sipimotech.com